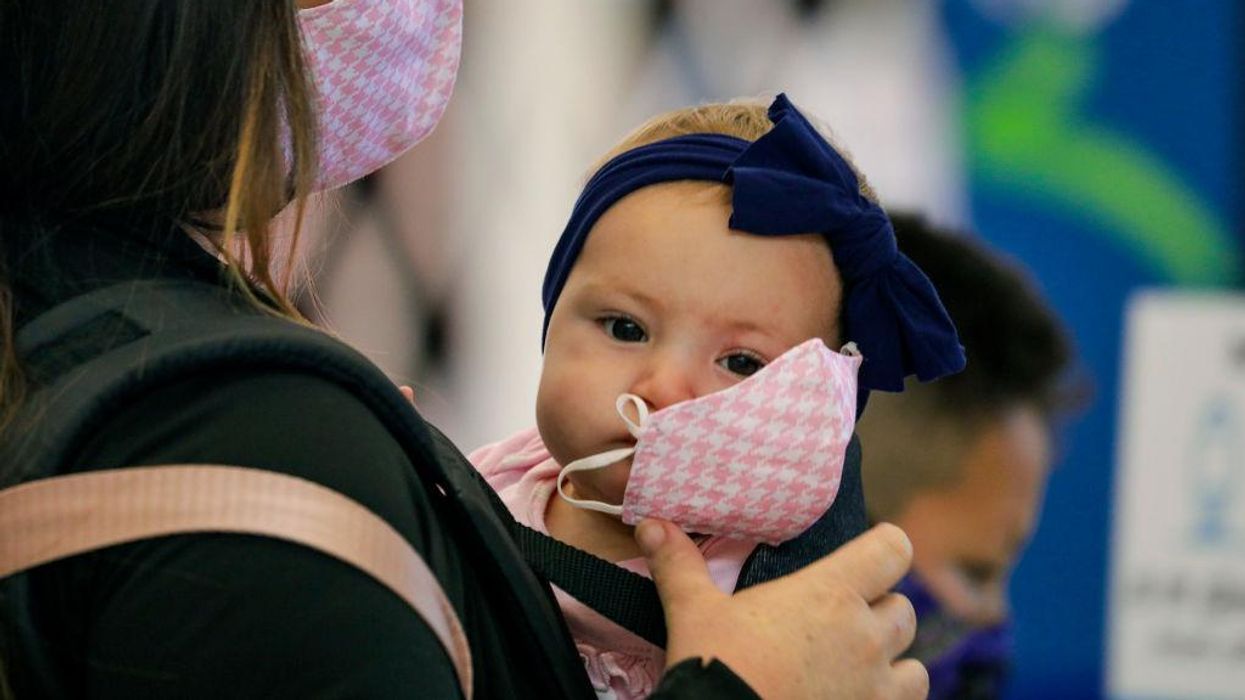 A new study published in the academic journal "Archives of Disease in Childhood" on October 11 revealed that COVID-19 lockdowns, mask mandates, and related social isolation adversely impacted babies' social communications skills. In addition to lockdown babies being less likely than previous cohorts to utter their first words before their first birthdays, they were also less likely to perform nonverbal communicative gestures.
The study, led by the Royal College of Surgeons in Ireland, showed significant drops in communicative skills in babies born during the first three months of the pandemic. It indicated that, among the 354 babies assessed, at "12 months, there is a reduction in parentally reported social communication developmental milestones compared with a historic cohort."
For instance, whereas pre-pandemic, 89.3% of infants could verbalize one definite and meaningful word (e.g., "mama," "dada," "bye-bye") at 12 months, only 76.6% of lockdown babies were able. That is a drop of 12.7 percentage points.
The study also found that only 87.7% of lockdown babies could wave goodbye by the age of 1, whereas 94.4% of pre-pandemic babies were able. There was also a nine-point drop in babies' ability to point.
Researchers noted that early in the pandemic, amid sustained lockdowns and mask-wearing, babies "missed the opportunity of meeting a normal circle of people outside the family home, including other babies and grandparents," effectively living in social isolation.
The masking of faces likely had a significant impact, as "babies from 6 months of age tend to shift their gaze from the eyes to the mouth."
The findings of a 2021 study published in "Developmental Science" suggested that this problem likely would not have been resolved by the use of clear masks, since infants were unable to recognize familiar words spoken by those wearing them.
Some of the findings in the Irish study corresponded with those published by a Chinese group in "Frontiers in Pediatrics," which indicated that so-called public health strategies related to the pandemic "might be associated with a higher risk of delay in the development of fine motor and communication in 1-year-old children."
Last year, a Brown University study also determined that "children born during the pandemic have significantly reduced verbal, motor, and overall cognitive performance compared to children born pre-pandemic."
According to the Irish study, the "development of social communication is dependent on social engagement, and low levels of community engagement of infants and their caregivers have been associated with developmental delay in a non-pandemic setting."
Researchers added, "Because of lockdown measures, it is likely that COVID-19 era babies heard a narrower repertoire of language and saw fewer unmasked faces speaking to them."
While appending a hopeful statement to their findings, suggesting that babies' "social communication skills will improve" owing to their resilience and subsequent "societal re-emergence," they recommended following up on this cohort to school age.
3.6 million babies were born in the U.S. in 2020.
This content was originally published here.